How can I ever say…that I'm not your recreation?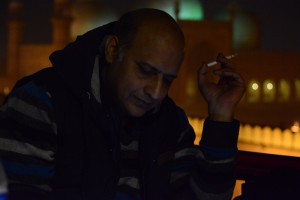 Your lips on my hands and your eyes on my instruments, so I may compose the tunes  of love….
The Gods of music are holding my hands and I m singing with fervor of love…
My beloved shall sleep …in the wings of my loveliest emotions.
The tunes of love spread and flying around like the snowfall on mountains and I m simmering with emotions dancing and creating the tunes of love….
Full of love full of passion to create
Full of urge to be the most guided soul of your love, guiding to make your songs in my mind…..
Thinking of paths to be enlightened by our love together
Can see the paths in the light of your eyes
Can see the directions sent to me by your soul
I want my thoughts to make your heart lighter and you bloom like a flower
I want your eyes to emit the starlight making everything beautiful
. Maybe it's not me who is nice…..But…it's that I'm in love so it's your love …making me nice
Living under the shadows of your love…is something like a blessing for me
You see I'm like the pure nature …of human soul…i cry ….i smile… i dance…. i get gloomy
.i get sad..i get excited….. i dream.
..i work …
It's all like I'm born as a proper human from your soul…….
You have knitted and delivered me…
So i tend to believe that no mother left her child …
I'm like maybe a best painting you have ever made…
I'm a symphony spreading around …like a tune composed by you ….
I feel your symphony will be spreading love among people for the ages to come…
All my poems to come shall be the creation of your recreation
… and how I have started singing the songs of love …like a magic piano …you just touch a cord and unseen angels of love starts playing it……
……..How can I ever say…that I'm not your recreation?
written by: Maqbool Ahmed Mirza