In Between the light and darkness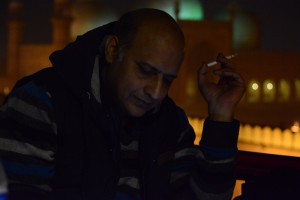 Standing in between the light and darkness, the darkness tells me about the unknown paradise but on the darkest paths the lightening instigate me to enter and open my eyes to the world of dreams so blurred…
Blindfolded like a child I fear the pain and horror of both… The moderation I hate and excitement I love but fear is my asset and dreaming is my passion.
I don't need to believe but I need love to survive and to grow, to create, to produce, to spread………All I need is, my eyes fixed on star light of love, even if my eyes burn or my eyes get the dew of love or the rosewater comes in my eyes or the tears… even I am left blind…I want my eyes never to move… I want my gaze to be fixed and my head to be bound in direction of my star light…
You taught me, the unity of being, the existence of one god, there is one love, one love is god and god is one love, this focus on one god, I feel, is the real essence of life….
I want to live inside your circles, your priorities, your liking, your wishes. I want to build a castle where every color of the wall should be of your choice
I felt mysterious silence inside, like mist settles down in atmosphere of my soul, dense fog, staying on the surface of my heart.
I am living between the darkness and light, I am not sure which path will lead me to nowhere.
www.maqboolmirza.com